God With Us by Jeremy Pierre: My Review, a Giveaway, and an Exclusive Bonus for my Readers
Recently, we had the pleasure of taking an early look at this gorgeous children's Bible God With Us by Jeremy Pierre and illustrated by Cassandra Clark.
This post contains affiliate links for your convenience.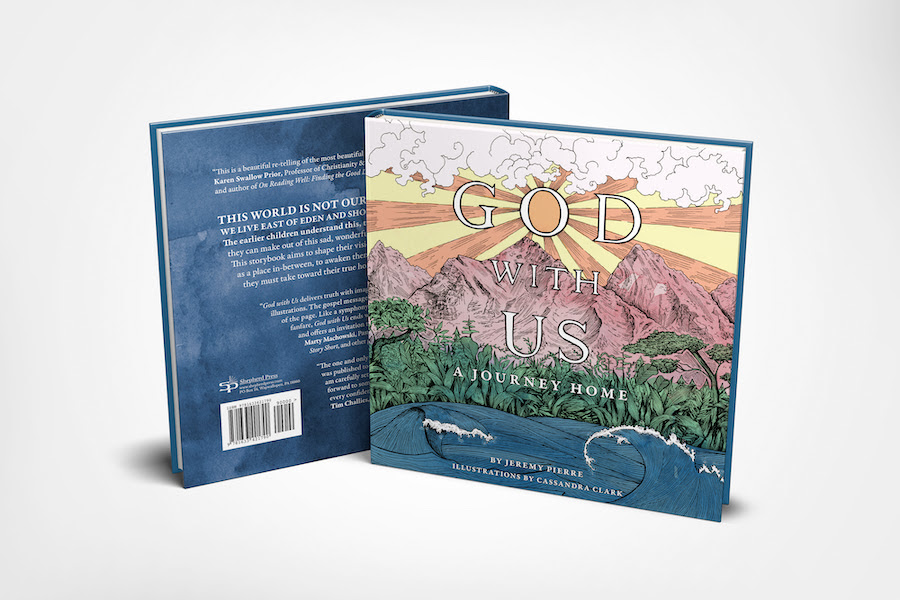 About the Book
Author Jeremy Pierre and illustrator Cassandra Clark want to awaken children to a brave journey―a journey home.
This world is not our home. We live east of Eden and short of Heaven. The earlier children understand this, the more sense they can make out of this sad, wonderful place. This storybook aims to shape their vision of the world as a place in-between, to awaken them to the brave journey they must take toward their true home—their home with God.
About the Author
Jeremy Pierre lives in Louisville, Kentucky with his wife Sarah and their five children. He is a former literature professor who now teaches counseling and theology, but never quite got away from his first love. He earned his B.A. in literature from Cedarville University, his M.A. in literature from Cleveland State University, and his M.Div. and Ph.D. in Counseling and Theology from the Southern Baptist Theological Seminary. He teaches at Southern and pastors at Clifton Baptist Church.
Video: Why Another Storybook Bible?
My Thoughts on God With Us
This is one of the best children's Bible storybooks I have seen in a really long time! We are absolutely loving it at our house. The kids – all of them from ages 6 to 17 – gathered around and didn't want me to stop after just one. We read the intro, preface, and the first seven chapters in our first sitting before I received permission to stop for a while a pick it up later. So it was a definite win for the kids.
I'm quite picky about my children's Bibles, but I really like this one. The only thing I would change is that I wish it had used God's Name rather than calling Him "God." For example, to say that Egypt was a place where no one knew "God" is a bit ridiculous as they knew many "gods." What the author meant is that no one in Egypt knew the God YHWH yet. Other than that, I'm pretty happy with it, and I just read His Name aloud to the kids where it should have been used so that's not really a big deal for us.
There are many things I love about this Bible. I'll only comment on a few. The first thing I noticed was that the illustrations actually looked like the ethnicities that the people were supposed to be! (This should not be as shocking and rare as it is in children's Bibles!) I was thrilled that Middle Easterners look Middle Eastern, Egyptians look Egyptian, and Romans look European! And the illustrations are also beautiful to look at! The other thing I love about this children's Bible is that it seems to be more theologically accurate than most children's Bibles. It sticks pretty closely with the Bible's words rather than introducing theological interpretations (for the most part – I do realize it is virtually impossible to never do that.) I also love the way that the theme of the presence of God is expressed and illustrated so well throughout the book!
All in all, we are loving the complimentary paperback copy of this book that we received from Shepherd Press for review. I am looking forward to purchasing a hardback copy of this to add to our library as soon as it comes out!
You can buy God With Us directly from the publisher Shepherd Press.
Or you can purchase it here from Amazon with my affiliate link.
Disclosure: Many thanks to Shepherd Press for providing this product/product information for review. Opinions are 100% my own and NOT influenced by monetary compensation. I did receive the product in exchange for this review and post.
Exclusive Bonus for Readers of Mommynificent: A Song to Go Along with this Bible
I really enjoyed the theme of the presence of God throughout this book and how the author and illustrator highlight the great lengths YHWH went to in order to dwell with His people. I wrote a song with this same theme that you may enjoy listening to as part of your devotional time with this book. It's called "You've Always Longed to Dwell with Men" and you can find it wherever you enjoy listening to streaming music. I'll also include the YouTube video here for your enjoyment.
Giveaway
As part of this publicity campaign with Momentum Influencers, I have been given one physical copy of God With Us to give away to one of you, my dear readers (once the final, hardback copy is available). Note: This giveaway is limited to US winners only.
Learn more about the unique approach of God With Us with videos from author Jeremy Pierre down below.
Video 1: Scripture is Our Letters from Home
Video 2: A Real, Not Ideal World
Video 3: Imagination Restored
Video 4: Jesus Journeyed Too