Ayam Kapitan: Malaysian Curry Chicken Recipe
After being hacked and having to completely start from scratch here on the blog, I knew that I wanted to have a section dedicated to THM recipes that we love. THM has been such a blessing to our family, and I am excited to share some of our favorite recipes! This first one was my most visited page of all time on my blog before I had to wipe it, so I'm posting it with its backstory which is now from seven-ish years ago. Time sure flies. I'm not usually so wordy on recipe posts, but this one just has such a great story! I'm also including how I make it now that we are sugar-free; this was a very minor adjustment and simply entailed trading out the 1 tsp of sugar for an acceptable on-plan sweetener.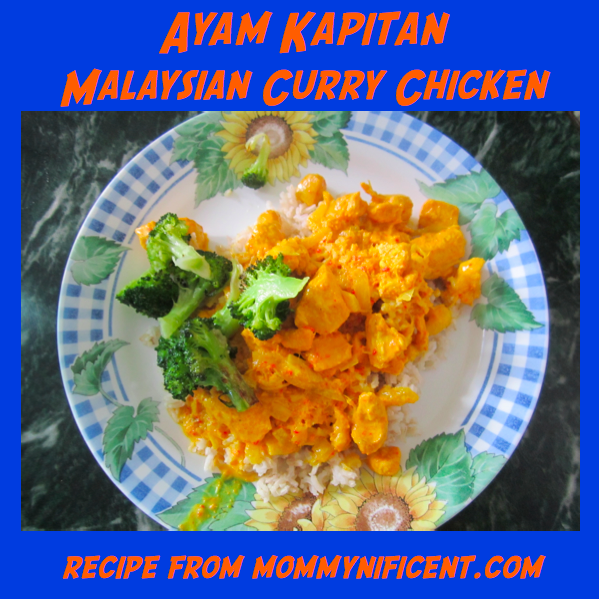 "Today, I am giving you what is probably my most requested recipe and what is certainly my favorite Malaysian dish. A little over a year ago, I had the pleasure of taking a cooking class at the Tropical Spice Garden here in Penang, and this was one of the dishes I learned to make there from a delightful teacher, Pearly Kee. Over the past year, I have tweaked and changed the recipe to make it more palatable for my kids and easier to fit my lazy cooking style. 
 I've also tried a few different ingredient substitutions so that it can be made with more readily available ingredients in the US.
This dish also comes with a fun legend that gives some insight into Malaysian history. Back when Malaysia was a British colony, the British brought in a lot of Chinese workers for various jobs including to serve in their houses. The legend says that a ship captain had a male Chinese cook who often found himself frustrated by his inability to find ingredients he knew and unable to make the kind of delicious meals he was used to making. One day, he smelled an enticing curry cooking over the wall. He went to find the source of the smell and found an old Malay woman cooking over her fire. He begged her to teach him how to cook it and other dishes using the foods available in Malaysia. She did, but when he tasted the curry, he found it was too spicy for his tastes and he knew the British captain wouldn't like it. So, he worked on it, bringing in what he knew of Chinese cooking to make the curry more mild and flavorful. When he had the curry just how he wanted it, he dared to serve it one evening when the captain brought guests for dinner. The captain tasted the curry and exclaimed over how delicious it was. He asked the cook what it was, and the cook replied in Malay, "Ayam, Kapitan," which means, "Chicken, Captain." The captain misunderstood and thought that was the name of the dish. From then on, he regularly asked his cook to make Ayam Kapitan for him and for guests, and the name stuck. This is a dish you will find in many restaurants throughout Malaysia, and one that I feel sure you will enjoy, even if you've never liked another curry in your life!"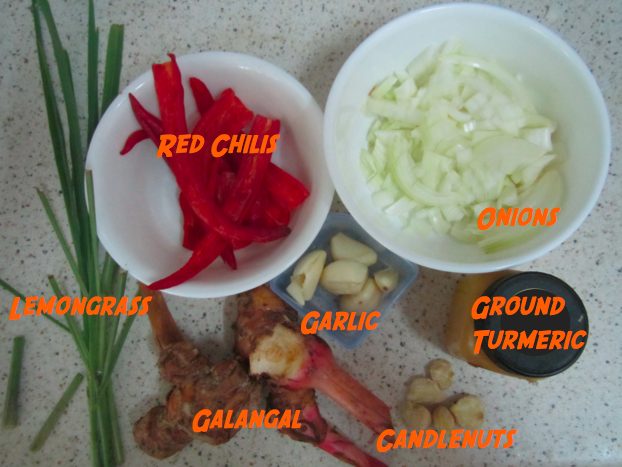 Some of the ingredients are uncommon in other countries, but I think you'll be able to either find them or find something else that will work. The red chilis used are the kind that are about a finger-length long. You may find them under the name of Thai chili, but they seem to have a number of different names. They add a lovely flavor without making the curry painfully spicy. Those who want it spicier can add dried chilis or crushed red pepper to the paste blend. Candlenuts are often used to thicken Malaysian and Indonesian curries; they must be cooked before eating as they are highly toxic when raw. Galangal is a rhizome similar to ginger. Ginger can be substituted though it's not as pungent. Turmeric is another rhizome. If you can find fresh turmeric, the flavor is lovely, but ground turmeric is satisfactory for this curry. To blend rhizomes into a curry paste, you must cut them very small; otherwise, you will end up with hair-like strands in the curry. (Of course, I know this from experience as I am very lazy when it comes to chopping! 
 ) Lemongrass is a grayish-green stalk, the bottom six inches of which can be used to give a lemony flavor to dishes.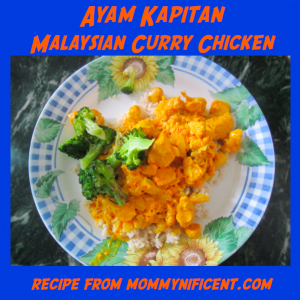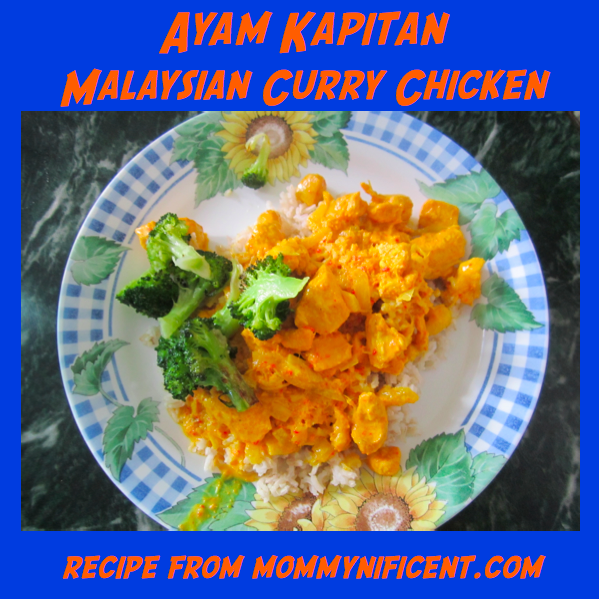 Ayam Kapitan
Ingredients
Curry Paste
3-4

stalks

fresh lemongrass

(or 1 Tbsp dried ground lemongrass)

3

candlenuts or macadamias

(or 6 almonds or cashews)

2

fresh red chilis, seeds and veins removed

1

inch

knob of fresh turmeric

(or ½ Tbsp ground turmeric)

1

inch

knob of galangal or ginger

(or ½ Tbsp ground ginger)

2

cloves

garlic

1-3

dried chilis or crushed red pepper to taste
Other Ingredients
1-2

Tbsp

coconut or olive oil

1

onion, chopped

1-1.5

lbs

boneless chicken, cut into pieces

1

can

coconut milk

1/2

Tbsp

salt

1

tsp

xylitol or erythritol

(or 1/4 tsp THM Super Sweet blend)

1-2

Tbsp

lemon or lime juice
Instructions
Chop all the ingredients for the curry paste into small enough pieces for your blender to handle. Put in the blender with enough water to blend into a paste. Don't worry about adding too much water; you can always cook it off later. Traditional Ayam Kapitan has largish pieces of chopped onions to give a pearl-like appearance, which many Malaysians feel is necessary for Ayam Kapitan to be authentic. My children, however, do not like to see their onions, so I put them in with the curry paste ingredients in the blender. You can do either without much difference in taste.

Heat the oil in a large skillet or wok. A cast iron dutch oven works really well for this too. Cook the onions till soft if you haven't blended them.

Lower the heat to medium, and add the curry paste to the hot oil (and onions if they're there) and cook it for about 5 minutes, stirring frequently.

Add the chicken and cook until it turns white on the outside.

Add the coconut milk and bring it to a boil on high heat for about 5 minutes.

Simmer on low heat until the chicken is tender and cooked through.

Add salt, sweetener, and lemon or lime juice. Stir and turn off the heat. Leave the lid half on for about 5 minutes to let the flavors set.

Serve with cauliflower rice or konjac rice or noodles for a THM S/keto meal. For a THM crossover, serve with rice and/or potatoes.