The Next Fithian by Rick Barry: My Review
I recently had the pleasure of reading a complimentary copy from BookSirens of The Next Fithian: An Ordinary Teen on a Strange, New World by Rick Barry. This is a great and unique read, unlike anything I've read before! My best description of it is a mashup of a missionary biography, StarTrek, and The Hunger Games. With a main character who is 17, teens and young adults will love it, but I hope it doesn't get relegated to YA shelves alone because it is just an all-around good Christian fantasy story. I loved it, and I think my husband will enjoy it as well. It is non-stop action, non-formulaic, and full of twists and turns that made it very hard for me to put down. It is possible that some readers may find this book a bit too preachy, but I personally enjoyed the clear presentations of the Gospel given throughout the book and the emphasis on sharing the Gospel across cultures. This would be a great spiritually-edifying gift for readers who enjoy books like The Hunger Games.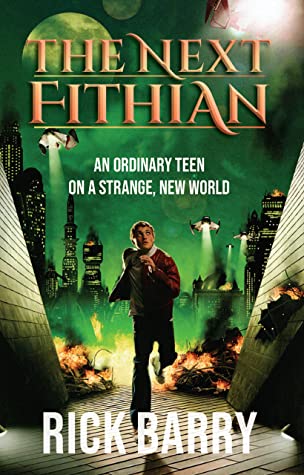 Here's the synopsis from Goodreads: When Rankin Johnson boards a flight to Israel, he expects an adventure in archeology. But the airplane comes under attack and explodes in midair. Rankin shouts, "God, I'm yours!" Instantly, he's in some other place. An angel informs Rankin the Lord is pleased to accept his offer. He dubs Rankin "the next Fithian" – a messenger from God, not to Earth, but to planet Zemna in the alternate dimension. What happened to the previous Fithian? "He was killed," the angel says before vanishing.
On Zemna, Rankin finds a perplexing, violent world. Futuristic technology mingles with primitive ways. Also, a bizarre symbol-the Intersection of All Things-has appeared on his left palm. It's a tool to aid his mission, but how? Rankin is supposed to share God's message with this planet. Instead, he becomes a slave. What he really wants is a trip back to Earth.
With the aid of a brother and sister who become his best friends, Rankin escapes. He hopes to fulfill his mission and return home as fast as possible. But now there's a price on Rankin's head. More than one Zemnan would rather kill him for the reward than hear what he has to say.
I hope you get a chance to read this book and love it as much as I did! If you do, please let me know your thoughts in the comments below!