I'm Co-hosting the Raising Imperfection Link Party!
Happy Sunday, everyone, and welcome to those of you visiting for the Raising Imperfection link party! I'm thrilled to have you here at Mommynificent! Please feel free to hop around my site a bit. Here are a few of my all-time favorite posts:
I also host a weekly link-up on Thursdays for anything and everything book-related. We'd love to have you join us each week for Booknificent Thursdays!
And now, without further ado, welcome to Week #39 of Raising Imperfection!
ANNOUNCEMENT: There will be no link party for the next TWO WEEKS. See you back on the 27th.
It's your favorite post Sunday link party!
We can't wait to see what you've been up to! What was your imperfection this week? Please view our very short introduction video for some link party rules and announcements.
Be sure to come back for Feature Fridays! Leslie and Lanaya choose their favorite links from the link up and feature them! If you missed the last features, you can see them HERE.
Please grab our link party button!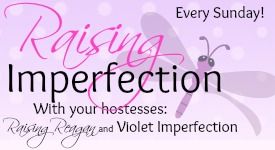 Say HELLO to your Co-Hosts for this week:
Tina –
Mommynificent
Alison –
NOVA Frugal Family
Please also visit your co-hostess for the month of October:
Dara –
Not in Jersey
Be sure to visit Leslie and Lanaya for Feature Fridays to see if your post was picked to be featured!
Tweet
Want to be the next co-hosts? Enter the Rafflecopter below and you could win! And don't forget to sign up for the weekly Raising Imperfection link up reminder.